COVID-19 Vaccine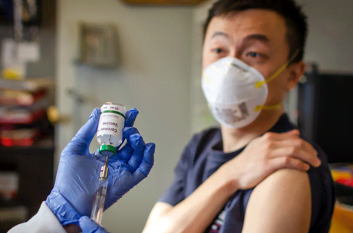 COVID-19 Vaccine Clinics
Stanislaus County Public Health's COVID-19 Vaccine Clinics will be open for individuals identified in Phase 1A, Seniors aged 65 and older, and individuals age 50 and over who are identified in Phase 1B. Vaccines are available to Stanislaus County Residents only. If you reside in a different county but work in Stanislaus County, you may be eligible to receive the vaccine if your job falls under the current Phases. Proof of employment is checked by self-certification.
- Acceptable proofs of residence [pdf] -
Vaccination Screening Form
Vaccination screening forms will be provided at the clinics. If you wish to fill out your screening prior to ariving at the clinic, you may download a copy.
Who Can Get Vaccinated In Stanislaus County:
Phase 1A
Healthcare workers
Long-term care residents
Phase 1B
Individuals 65 & older
Individuals Aged 50 & over in sectors:

Agriculture and food
Education and childcare
Emergency services
For more information regarding who's eligible under each sector, please check Sector Index at https://covid19.ca.gov/essential-workforce/
Where Can I Get Vaccinated?
Clinic Locations & Hours
Updated every Friday or as vaccine availability changes.
Modesto Centre Plaza
-Thursday 3/4/21-
1st Dose Only
Time: 9am-5pm
Address:
1000 L Street
Modesto CA 95354
Parking will be available at both City-operated garages on 9th & on 10th Street.
Stanislaus State
-Wednesday 3/3/21-
1st Dose Only
-Saturday 3/6/21-
1st Dose Only
Time: 9am-5pm
Address:
1 University Circle
Turlock, California 95382
Located at Fitzpatrick Arena.
Entrance off Geer Road.
Parking in Lot 8 across from arena.
Gladys L. Lemmons Senior Community Center
-Thursday 3/4/21 -
2nd Dose - Moderna
-Friday 3/5/21-
1st Dose Only
Time: 9am-4pm
Address:
450 East A Street
Oakdale, California 95361
Hammon Senior Center
-Friday 3/5/21-
1st & 2nd Dose
Time: 9am-6pm
Address:
1033 W Las Palmas Ave
Patterson, CA 95363
Visit MyTurn for clinics offering appointments in Stanislaus County
OptumServe: COVID19 Vaccines by Appointment Only
Neighborhood Center at Marshall Park
420 Chicago Avenue, Ste A
Modesto, CA 95351
Make Appointments at MyTurn or call 833-422-4255
Some pharmacies in Stanislaus County are providing the COVID-19 Vaccine. Please visit the pharmacy websites to see if vaccines are available and if you are eligible.
Approved Vaccine Providers In Stanislaus County
---
---
Additional Vaccine Information
COVID-19 vaccines are just one of many tools that can help keep our community safe. Even after receiving a vaccine, members of the community should continue to mask up, physically distance, and follow all recommendations until we can ensure everyone is safe from the impact of COVID19.